Yesterday, we focused on the huge, modern day open world adventure that is Grand Theft Auto V. Today, we're going to change gears, drastically. Instead of the massive fictional world that Los Santos, we will now be journeying back in time to the Cold War era in the fictional world of our next game:
Game #5
Papers, Please takes place in a fictionalized version of Cold War era Eastern Europe/the U.S.S.R. You play a character who just received a job via the labor lottery on the border checking passports of those attempting to enter your country, Arstotzka. Your job, to determine if the people are entering your country legally or illegally by validating their passport and other (increasingly complex) immigration information.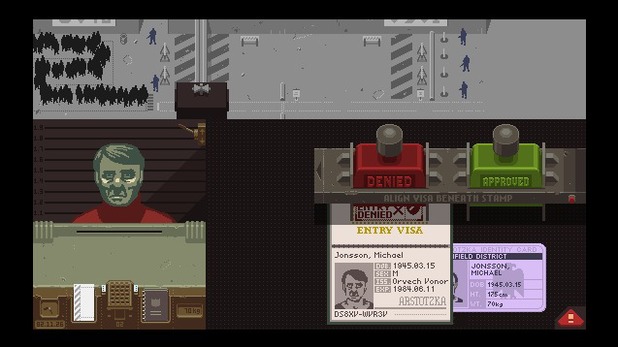 As you can see, Papers, Please uses a simplistic art style. The gameplay mechanics are also nothing new; you review the information the prospective immigrants present and determine whether to approve or deny their request. You get paid for each correctly processed person. Make too many mistakes, and you get demerits (or even fired, arrested and/or executed).
"What is the point? This game looks like work. Why would I want to play a game that is about working?"
Although the gameplay mechanics are simple in a Diner Dash sort of way, the storyline and the overarching concept of the game adds more to the experience than any other game I have played in a long time.
As I mentioned before, you make money for each immigrant you processed correctly. This doesn't just go toward buying a better passport stamp or nonsense like that. Instead, you need to be able to pay for rent, heat, and food for your family of six.
This alone becomes motivation to do your best to avoid being a dead-beat dad (or son or spouse). However, making enough money is not always within your control and when times get tough, you need to decide what is more important, heat or food. If this happens too often, your family gets sick and needs medicine and you need to decide which family members receive the medicine and which ones don't. Neglect family members for too long and they will die.
This use of RPG=lite elements help to make the "grind" of the office a bit more interesting.
Speaking of the job, the game does a fantastic job of ramping up the complexity from beginning to end, starting you off with checking basic passports but then building to adding work visas, diplomatic papers and other sorts of identification. Directives will be passed down on a daily basis adding these new paperwork restrictions as well as other decrees from on high (such as not allowing anyone through the checkpoint from specific countries).
As you advance through the game, small story events will come up that force you to make decisions. Do I allow the director's buddy into the country without the proper credentials? What will happen to me if I don't? Should I assist a secret order with their attempts to infiltrate the country and perform attacks on the government? If a person attempts to use falsified documents, do I arrest them or just deny their passport? These decisions help to build towards the 20 different endings within the game.
While performing your job and making these difficult decisions, the game continues around you. Every now and again, a terrorist will attack the checkpoint, causing destruction and closing the border early that day – which makes it that much more difficult to earn the money needed for grandma's medicine. Eventually, you are even given access to defensive weapons (a sniper rifle or a tazer gun) to take care of attacks before they are entirely carried out.
What is most intriguing about this game, however, are the parallels that the developer Lucas Pope draws between the dystopian world of the game and present-day complaints and issues in America.
One parallel drawn is the price of terrorism and its affect on personal freedom. Similar to the TSA agents at all American airports, you gain the ability to scan people with revealing X-Ray scanners to determine if they have any weapons on them. After scanning, you are presented with a naked, front-and-back image of the person to inspect in order to see if any weapons or contraband is on their person.
Clearly, the most blatant subject the game covers is immigration. No matter how different the world may be in the game from the world we live in today, the game characterizes those immigrating and how their ability to enter the new country may (or may not) make a huge difference in their lives. The game plays with these concepts, showing all sorts of different people seeking entry and gives the player a unique perspective on the immigration debate in American that not seen in any other game (or any other fictional work for that matter). My guess is, based upon your discussion with some of the characters in the game, you will think twice about following the rules blindly and give their passport the green stamp.
The ways that this game is able to broach some of the most integral and serious topics in our world today within this simplistic looking game is a testament to solid story telling and game design.
Possibly this is why when I started playing the game – only planning to toy with it for about an hour – I became engrossed to the point that my short play session was in actuality five hours long. And I wanted to keep playing. Why? Because in its simple mechanics but complex, branching story, I just wanted to experience more of the world that was crafted.
The game succeeds in doing everything it set out to do and so much more. And that is why no matter how mundane this game sounds to you, I implore you to play it for just one hour – a few hours later, I believe you will feel the same way I do about Papers, Please.
Rating: Seven out of Seven Stars
Where to Buy
Papers, Please can be purchased at the game's website via paypal or on Steam for $9.99.